Customer Service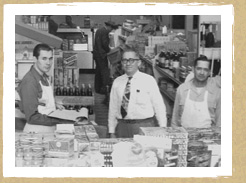 Inside the Klein Bros. General Merchandise 1940's
At Klein's we still believe in selling the finest quality products combined with old fashioned customer service just like my grandfather provided. In the 1920's and 1930's he would drive his Model A pick-up truck, just like the one featured in our logo, to the produce markets of Houston to gather the freshest produce and goods possible. By the afternoon, his customer's products were often personally delivered to their doorstep.
While we can't personally deliver to each of our customers today, we still uphold his philosophy of customer service. We guarantee your satisfaction with any Klein Bros. products or we will make it right with an appropriate exchange or refund. Please contact our Customer Service department at 1-888-KLEINTX or 1-888-553-4689 with any questions.
Regular working hours for Klein Bros. is Monday –Friday 8:30 a.m. to 5:00 p.m. CST. There are no shipments processed on Saturday and Sunday. For any questions regarding our shipping policies, please contact Customer Service at 1-888-KLEINTX (1-888-553-4689).
Shipping information
We ship all packages via FedEx from our home office in Tomball, Texas. Orders generally ship within 2 business days for in-stock items. Gift baskets may take longer to ship. You can calculate your shipping rate based on the items in your cart using live UPS rates during checkout. No charts or price ranges to read or calculate – it's all based on your order! Shipping can be upgraded for additional charges if you choose. Some shipments within Texas may be sent Lone Star Overnight.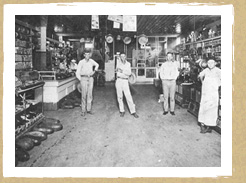 Original interior of Klein Bros. General Merchandise 1922
Klein Bros. does not currently ship orders to P.O. Boxes.
FedEx will provide a tracking number for your package where you can follow your shipment and estimate the date of delivery to you.
Shipping dates during November and December are subject to change without notice due to the volume of packages and carrier's shipping schedules, which are out of our control. To ensure holiday delivery, please place orders early.
Ice packs will be added to orders that include chocolate and yogurt covered items that are shipped during the months of April –October to ensure the delivery of your product and safeguard against the Texas heat. Ice packs will be billed at the following rate and added to your shopping cart during this time period:
$5.00 for 1-5 lbs of product
$7.50 for 6-10 lbs of product
Over 10 lbs, please call for a quote
Corporate Gifts/Special Orders
For corporate gifts or special orders, please contact us at 1-888-KLEINTX (1-888-553-4689) or email us at sales@nativetexanfoods.com.